APPETON ESSENTIALS MS TEEN
For teenage girls who have begun their menstrual cycle to prevent iron-deficiency anaemia and promote steady growth.
Appeton Essentials Ms Teen is a specially formulated dietary supplement for teenage girls to prevent iron-deficiency anemia. It contains 18 multivitamins and minerals which are essential for promoting optimum growth.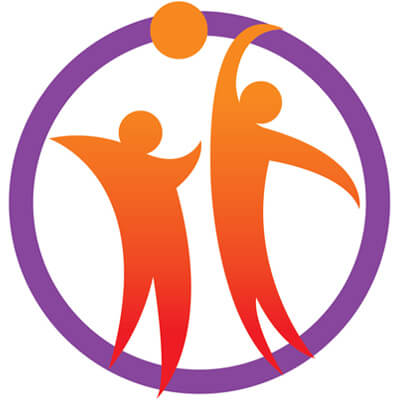 18 Vitamins and Minerals to promote a healthy physical growth during teenage years (peak period of the growing stage).
Iron helps in maintenance of good health and helps in the formation of red blood cells to prevent iron deficiency anemia.
Vitamin B Complex provides continuous energy and aids in optimum performance of the body.
Comes in once a day dosage.
Caplet format – smaller size and easy to swallow.
Product is packed in aluminum pack for better protection from oxidation and UV as well as to ensure freshness of each caplet.
Aluminum strip pack convenient for travelling.
Teenage girls aged 11 to 19: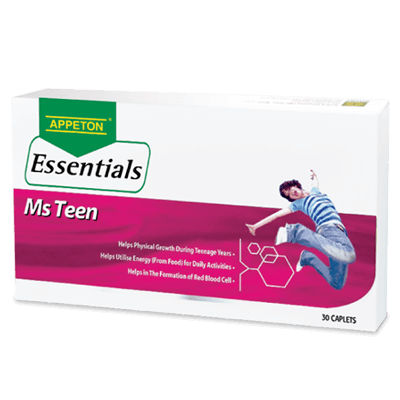 Direction for Use
1 caplet daily, with food, preferably at breakfast.
Ingredients +
| Contents | Per Tablet | USRDA* |
| --- | --- | --- |
| Vitamin A | 2000IU | 40% |
| Vitamin D3 | 200IU | 50% |
| Vitamin B1 | 1mg | 67% |
| Vitamin B2 | 1mg | 59% |
| Vitamin B6 | 1.2mg | 60% |
| Vitamin B12 | 2.4mcg | 40% |
| Vitamin C | 90mg | 150% |
| Vitamin E | 8IU | 27% |
| Folic Acid | 0.2mg | 50% |
| Calcium | 163mg | 16% |
| Iron | 15mg | 83% |
| Potassium | 4.98mg | - |
| Nicotinamide | 14mg | 70% |
| Copper | 0.7mg | 35% |
| Iodine | 0.75mcg | 0.5% |
| Magnesium | 6.13mg | 2% |
| Zinc | 0.9mg | 6% |
| Manganese | 0.56mg | - |
* United States Recommended Dietary Allowance, US RDA
This is a supplement product advertisement
KKLIU 0321/2021
MAL 08042250 X